19 May 2021
Star ingredient in skincare: vitamin C
From normal to dry and from oily to mature skin, every skin is happy with vitamin C. This powerful antioxidant protects skin cells, reduces the appearance of pigmentation, reduces inflammation and gives you firm skin by stimulating collagen production. So, what are you waiting for?
All benefits of vitamin C
Of all the antioxidants in skincare, vitamin C is perhaps the most researched. And with results: the proven skin-improving properties of vitamin C can't be counted on two hands. The power antioxidant defuses free radicals in the skin, protecting you from skin damage (pigmentation, wrinkles) and preventing new skin damage. Vitamin C and SPF are a dream team for a reason: apply vitamin C under your sunscreen and you're good to go to face the sun. Vitamin C also has a brightening and smoothing effect, acts as an antioxidant, stimulates collagen production and makes your skin much more elastic and firm.
The more stable the better
To make sure you're getting the real deal, take a critical look at the list of ingredients in your cream, serum or vitamin C powder. Because one form of vitamin C is not the other. A stable form of vitamin C is L-ascorbic acid, but also tetrahexyldecyl ascorbate and ascorbyl glucoside are good choices when you are looking for an effective form of vitamin C. The position on the ingredients list is also essential for the effect of vitamin C. The higher the antioxidant is listed, the more of it is contained and the more effective your product will be. Even better, choose a product with 100% ascorbic acid, such as Facial Brightening Vitamin C Powder from Merme Berlin.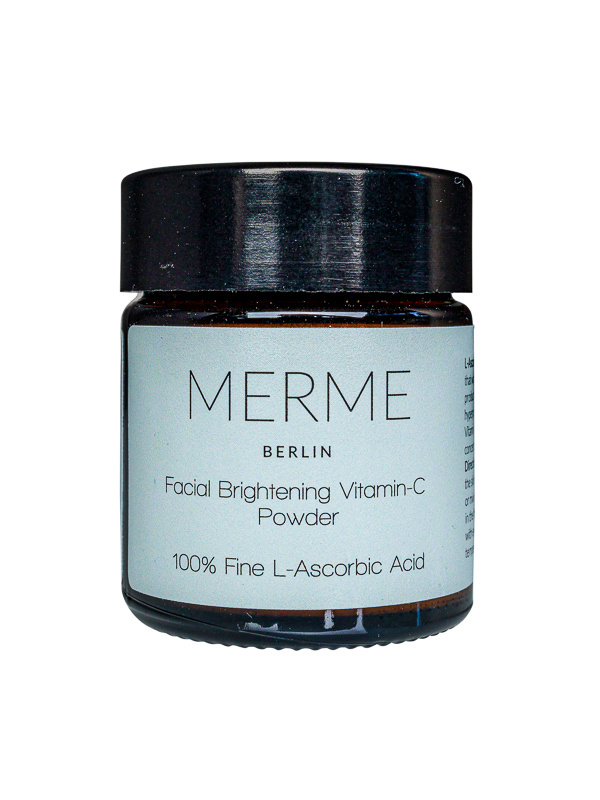 Check the colour
Products with vitamin C should be transparent or light in colour. Has your vitamin C cream or serum turned brownish in colour? Then the vitamin C has been oxidised and the antioxidant is not really doing its job any more. Always use up your vitamin C product within three months. After that, its effectiveness quickly diminishes.
Who and when?
Vitamin C is a mild antioxidant that causes little to no reactions. So no dryness and no chance of flaking, like with retinol. Do you have very sensitive skin? Vitamin C won't hurt you, either. Feel free to use your favourite vitamin C serum or powder every day, preferably in the morning. That way, you'll be protected from those free radicals that can damage your skin during the day. Our favourite combination: a layer of Vitamin C Ester Brightening Serum from Hynt Beauty under your SPF.