10 Aug 2020
Natural sunscreen v.s. chemical UV filters
With that lovely weather outside and the addition of a new sunscreen to our webshop, we thought it was time to update you on natural sunscreen. Why is it so important to avoid some chemical UV filters?
When it comes to sunscreen, you can distinguish between a natural and a chemical variant. A natural sun lotion contains mineral filters, a chemical sun lotion contains chemical filters. What is the difference?
Chemical filters in sunscreen
Chemical sunscreens penetrate the skin, blocking UV rays. It takes about 30 minutes after applying a sunscreen with a chemical filter before it starts to work. You can recognize a chemical filter by the following ingredients on the label: oxybenzone, octyl methoxcinnamate, octocrylene, avobenzone, homosalate and 4-methylbenzylcathinone.
But because this filter penetrates the skin, most chemical sunscreens cause skin irritations like red rash, bumps, itching or eczema (by the way, you may also have caught a sun allergy, so it doesn't always have to be the product!). Recent studies even show that some chemical filters (oxybenzone) can disrupt hormone metabolism. However, an advantage of chemical filters is that they are much less noticeable when applied (read: no snow white legs) and therefore more attractive for many people.
Mineral filters in sunscreen
Sunscreen with mineral filters, also known as mechanical or physical filters, are made from mineral zinc oxide and titanium dioxide and work just as well as a chemical sunscreen. The difference is that these ingredients do not pull into your skin, but lay a kind of layer over the skin. The UV radiation is then reflected, as it were. These filters rarely cause an allergic reaction. They are fine sun filters for sensitive skin, so they are also suitable for baby skin.
A mineral filter should also be applied before exposure to the sun, but generally works a little faster than chemical filters. The disadvantage of mineral filters, however, is that it gives you a white haze. Not that great, but better for your skin.
Nano technology 
There is something you can do to avoid that white haze. By cutting the active substances into microscopically small particles, they become more transparent in a cream. This technique is called nanotechnology. The effect and safety of nanoparticles in turn depend on the properties of nanoparticles, such as size, weight, material and effect on the cell. Nanoparticles cannot migrate into the skin, but when you inhale them (for example with a natural sunburn spray), it's bad for your health.
So if you opt for a mineral sunscreen with nanoparticles, do not opt for the spray form. Fortunately, the cosmetics industry never stands still and there are already quite a few sunscreen products on the market with a mineral filter that is transparent and safe to use, non-nano. 
Chemical is not always bad
Now, not all chemical UV filters in sunscreen are harmful to your skin. If you find the following chemical UV filters in your sunscreen, know that they are not bad for you:

• Tinsorb S / Bemotrizonol (INCI Bis-Ethylhexyloxyphenol Methoxyphenyl Triazine
• Tinsorb M (INCI Methylene Bis-Benzotriazolyl tetramethylbutylphenol (nano)
• Tinsorb A2B (INCI Tris Bihenyl Triazine (nano)
• Uvinal A plus (INCI Diethylamino Hydroxybenzoyl Hexyl Benzoate
Antioxidants: a must
Solar filters block UVB radiation, but completely blocking radiation does not work. That's why you need sufficient antioxidants to protect your cells against free radicals (read: the sun). Young, healthy skin naturally has enough antioxidants to catch these free radicals, but the older you get, the less well the skin functions. You can replenish your supply of antioxidants through your diet or by using skin care products. Antioxidants can be found in tomato puree, green tea, coffee, pistachios and blueberries. But also in our natural sun creams!
For animals and the planet 
The use of natural sunscreen is not only a lot better for your skin, but you also do animal and planet a favor. Did you know that more than 14,000 tons of sun block disappear into the sea every year? The harmful ingredients in it, such as oxybenzone and octinoxate, are known to make marine organisms such as coral and fish sick. Chemical UV filters are therefore banned in more and more countries, such as Bonaire, Hawaii and Palau.
How do you choose the right sunscreen?
First of all, look at the filters. Are they (bad) chemical UV filters or mineral filters? Secondly, are there fragrances in the product? Things like perfume, alcohol or other bullshit ingredients that irritate your skin? Thirdly, are there antioxidants in the product? If you have too much doubt, check the ingredients of your sunscreen on dermabase.nl. Or choose one of the sun creams below: you'll know you're safe anyway!
A few last tips: use at least an SPF 15 and apply liberally and preferably all day long, especially if you're really tanning at the beach. Stay out of the sun during the hottest part of the day and wear sunglasses or a cap. Better safe than sorry!
These four products from our webshop are 100% natural and do not contain any chemical UV filters.
Sun Prep Broadspectrum SPF 25 by Hynt Beauty
This 3-in-1 cream for your face protects sensitive skin against UVA and UVB rays by using hyper-small (but not nano) 9% titanium dioxide as the main filter. It is a moisturizer, primer and sunscreen in one. The cream is unisex, spreads smoothly and is truly invisible. Feels light, is not greasy, gives a soothing feeling and reduces redness.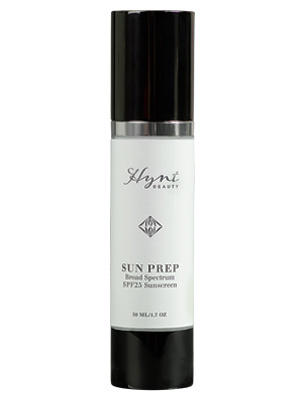 Face Stick SPF 30 by Salt & Stone
This 100% natural, organic sunstick consists of 22.5% non-nano zinc oxide. It protects against UVA and UVB radiation, spreads easily and is reef friendly. Once added, it's waterproof for 80 minutes. Jojoba, sunflower and vitamin E oils help moisturize and protect the skin. Would you prefer a higher factor? We also have this Face Stick in SPF 50, with a tan! And don't forget your lips: Salt & Stone lip balm is easy to take with you in your bag.