13 Jan 2020
Bathroom Shelfies: Romy de Vries
Nothing more fun than peeking into another beauty's bathroom cabinet. Welcome to the Bathroom Shelfies, where BEAUTSY gets a tour in the bathroom of a well-known social media influencer that not only shares her beauty ritual, but also tells us about her favorite beauty products and beauty secrets. In this edition: Romy de Vries.
Words: Vicky de la Cotera, photography: Kim Erich
She swears by K-Beauty, has already had a modelling career and her Instagram feed shows that she comes from an incredibly creative family. We are very happy with Romy de Vries (30) as the next beauty for our Shelfie series. She invited us to her dreamy Amsterdam canal house, where she lives with her boyfriend Marco. What immediately stands out is the pink kitchen (we want!), her huge bookcase full of artful reading material in the living room and the synthesizers, most by Marco and a few by Romy. Very artsy all and that will be continued - how nice - in her bathroom, the place where we have to be of course.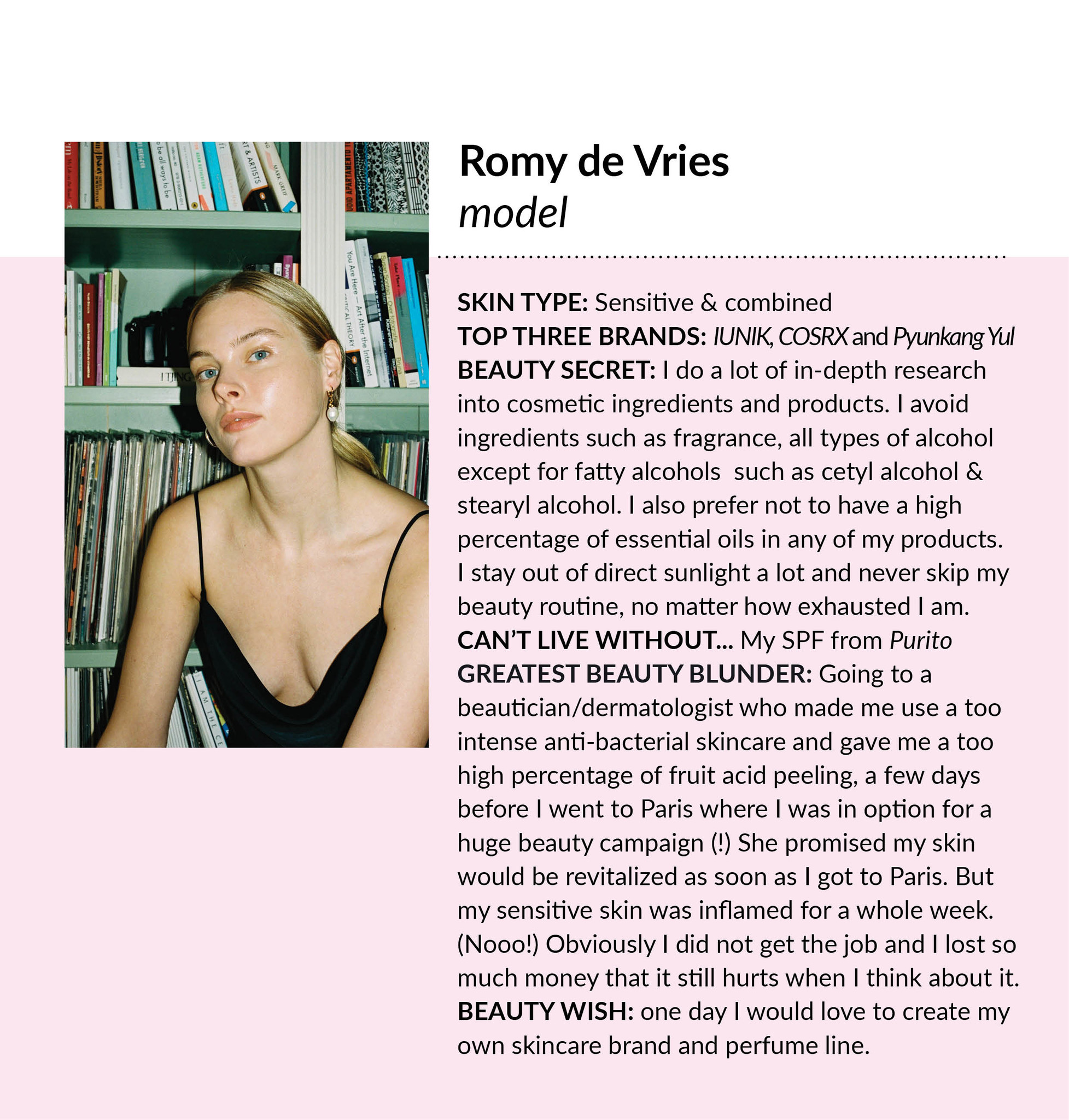 And her bathroom is amazing. Spacious, with bathtub, a work of art right next to it, underneath a vase with flowers, a plant next to the toilet, his and her washbasins and lots of bamboo and wood elements. Make-up-free and dressed in light jeans with a simple white top, she will guide us for the next few hours in her K-Beauty skincare routine, which helped her get out of the burn-out that started during her modelling career. Luckily, she's back again, this time as creative. What exactly does K-Beauty mean? Romy explains.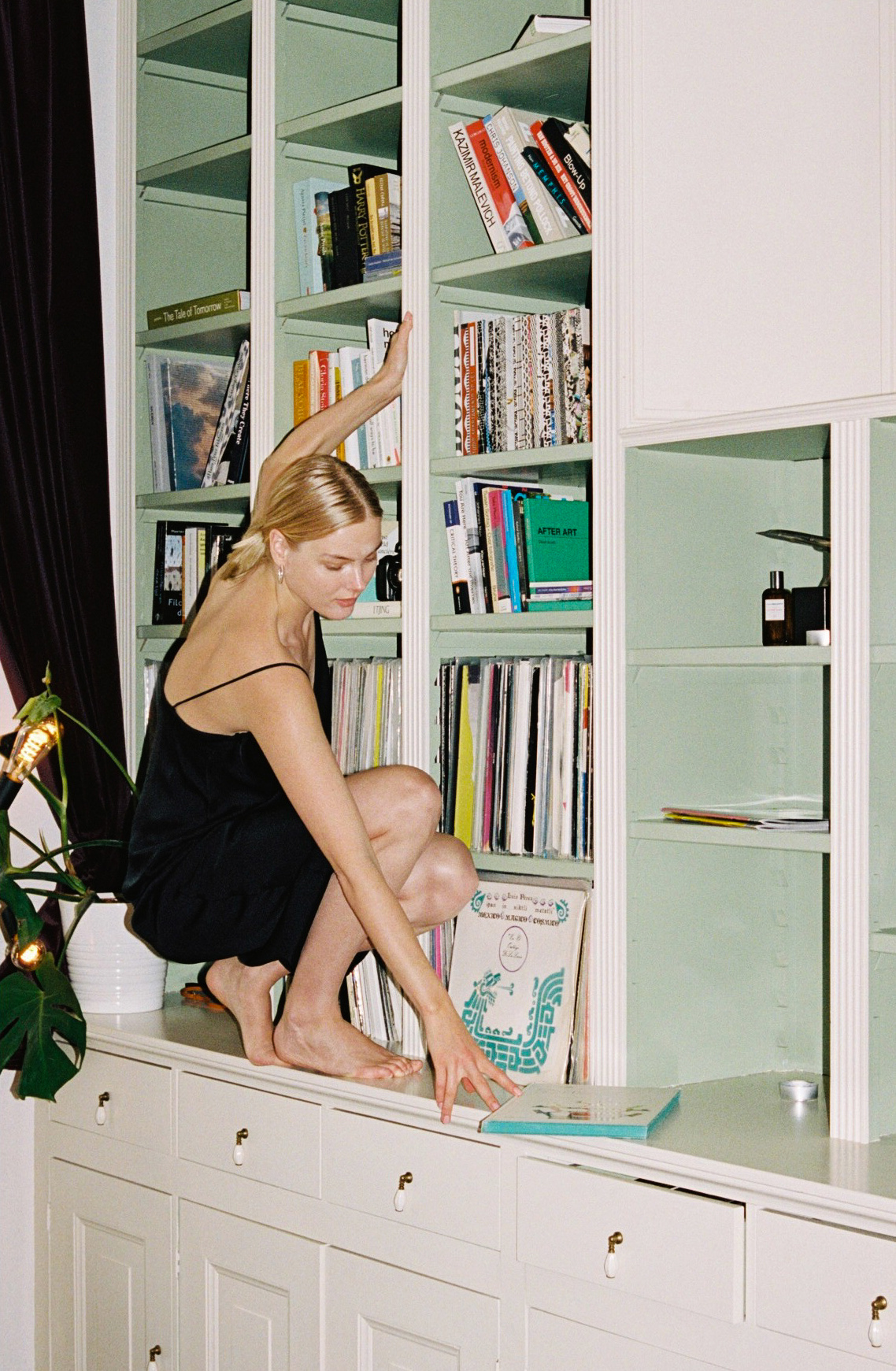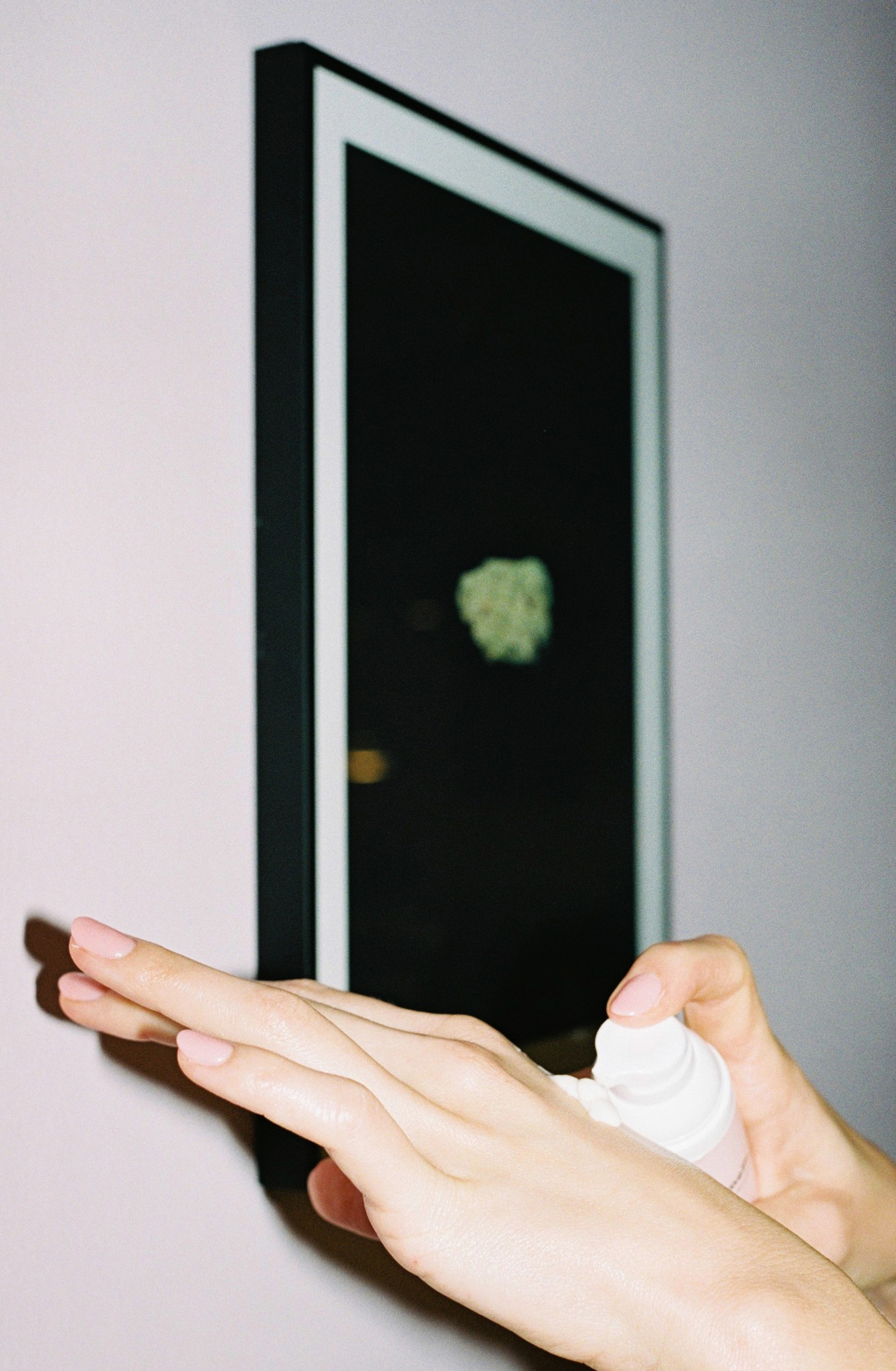 So K-Beauty. Tell us more!
'Yes! K-Beauty stands for Korean Beauty. It's a big name in beauty land. It consists of an average of ten steps to cleanse your skin. If you are consistent in applying Korean Beauty, you get a silky soft skin that looks super young. It is a combination of ancient herbal medicine knowledge combined with active skincare.'
"The attention and self-love I put into my skincare-routine makes a world of difference"

 
How did you get in touch with K-Beauty?
'As a model, I was never in control of what was done to my skin. For example, makeup artists sometimes didn't clean the brushes properly, or used products with irritants that caused skin problems such as acne and rosacea. I was willing to do anything to get my skin back in good shape, even if it would cost me a lot of time and money. After a lot of research and trying, I was finally tipped off with K-Beauty by a stylist on a shoot. Then I found out that this skincare routine works best for me. The attention and self-love I put into it now, makes all the difference in the world.'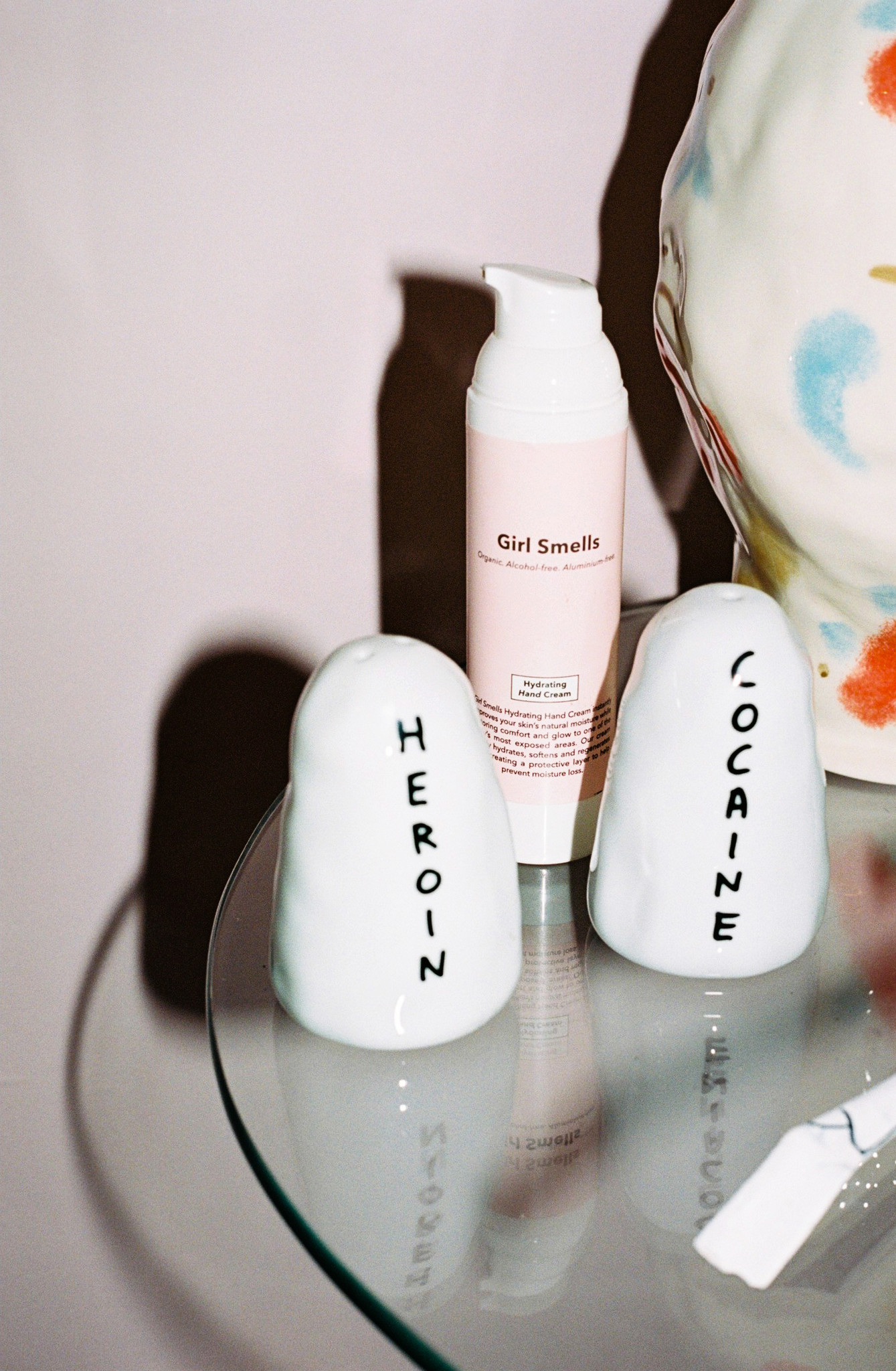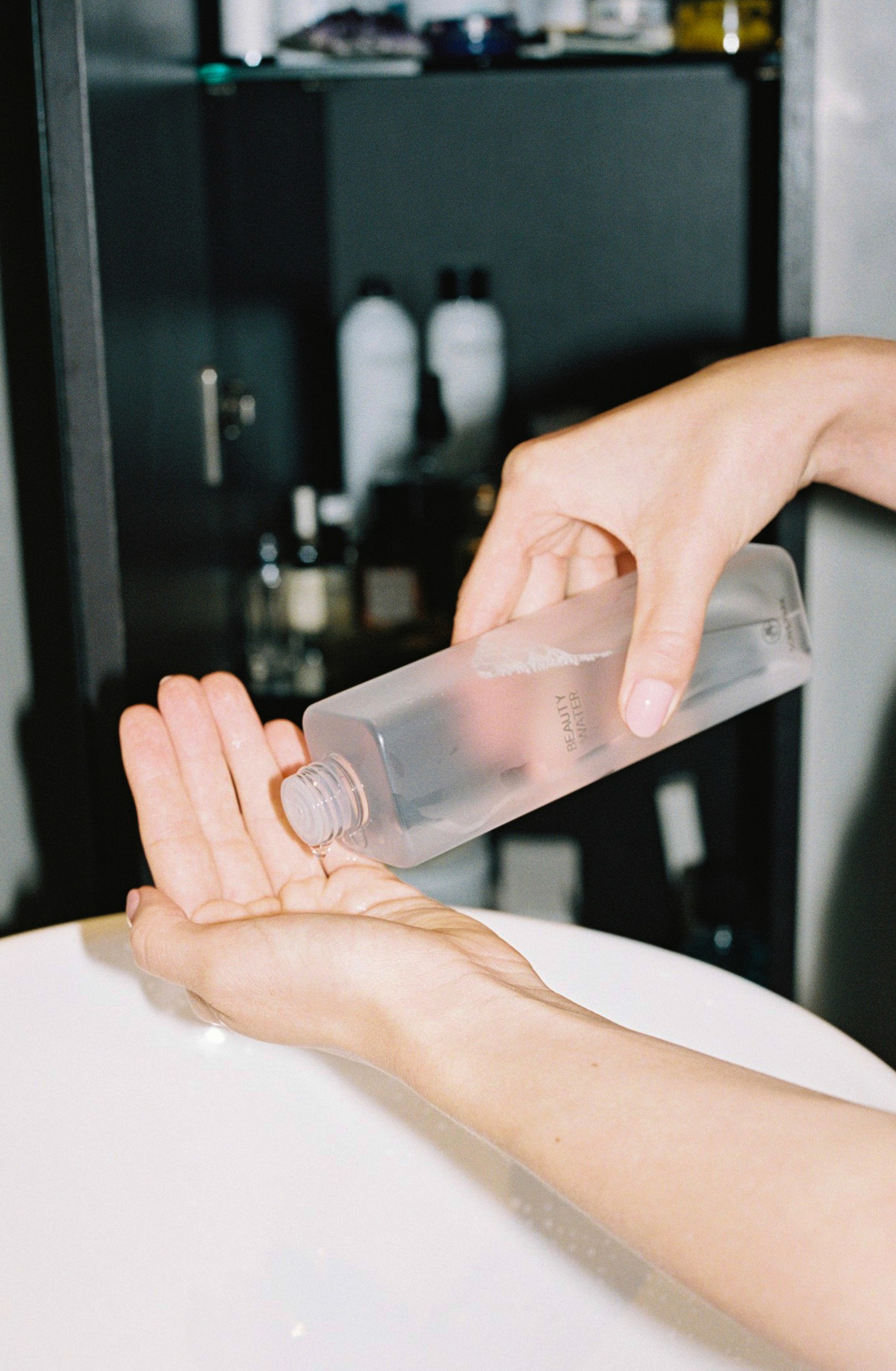 What exactly is that skincare routine?
'Depending on what my skin looks like, I use 7 to 12 products. I'm so beauty obsessed right now that I have too many products and I'm still testing a lot, so my routine changes slightly day by day. But I always start with a double cleanse. I now use the Moringa Cleansing Balm from Enature, an oil that I apply with a spatula, for hygiene. Then I cleanse my skin for a second time with a Gel Cleanser from COSRX. Afterwards I don't dry my face with a towel, but rather keep it a little wet for the next step. Then I exfoliate with a Missha Skin Peeling Pad, but I don't do that every day. Then a Galactomyces Toner from COSRX, the holy grail in K-Beauty. This rejuvenates your skin.
Then the Essence Toner from Pyunkang Yul and my favourite product: the Hyaluron Skin Essence from Hanskin. This is the hydration. Then I switch to Benton eye cream, the Azelaic Acid from Paula's Choice and the Black Snail Restore Serum from IUNIK with snail mucus. The next step is the propolis serum from IUNIK, then the Vitamin C Serum from Klairs, the Retinol Intensive Wrinkle Repair from Paula's Choice and a spf from Dr. Jetske Ultee or from Purito. If I need even more moisture I use the Madecassoside cream from A'pieu. The last step is to apply Holika Holika's Super Ceramide Mist and a lip balm of the same brand.'
Wow. How long will this routine take you?
'It's possible in 10 minutes, if you're in a hurry, for example. So I sometimes use one serum instead of several. But if I have the time, it takes me about 45 minutes. Then I let it all soak in for a long time. By the way, I buy the products online or in a Korean-beauty shop in Amsterdam, Haru Haru. I also check everything I buy on skincarisma.com, to find information about the efficacy of ingredients. On the internet you can also find a lot of tutorials on how to apply all the products. For example, I don't use cotton pads, but I dab everything on my skin with my fingers.'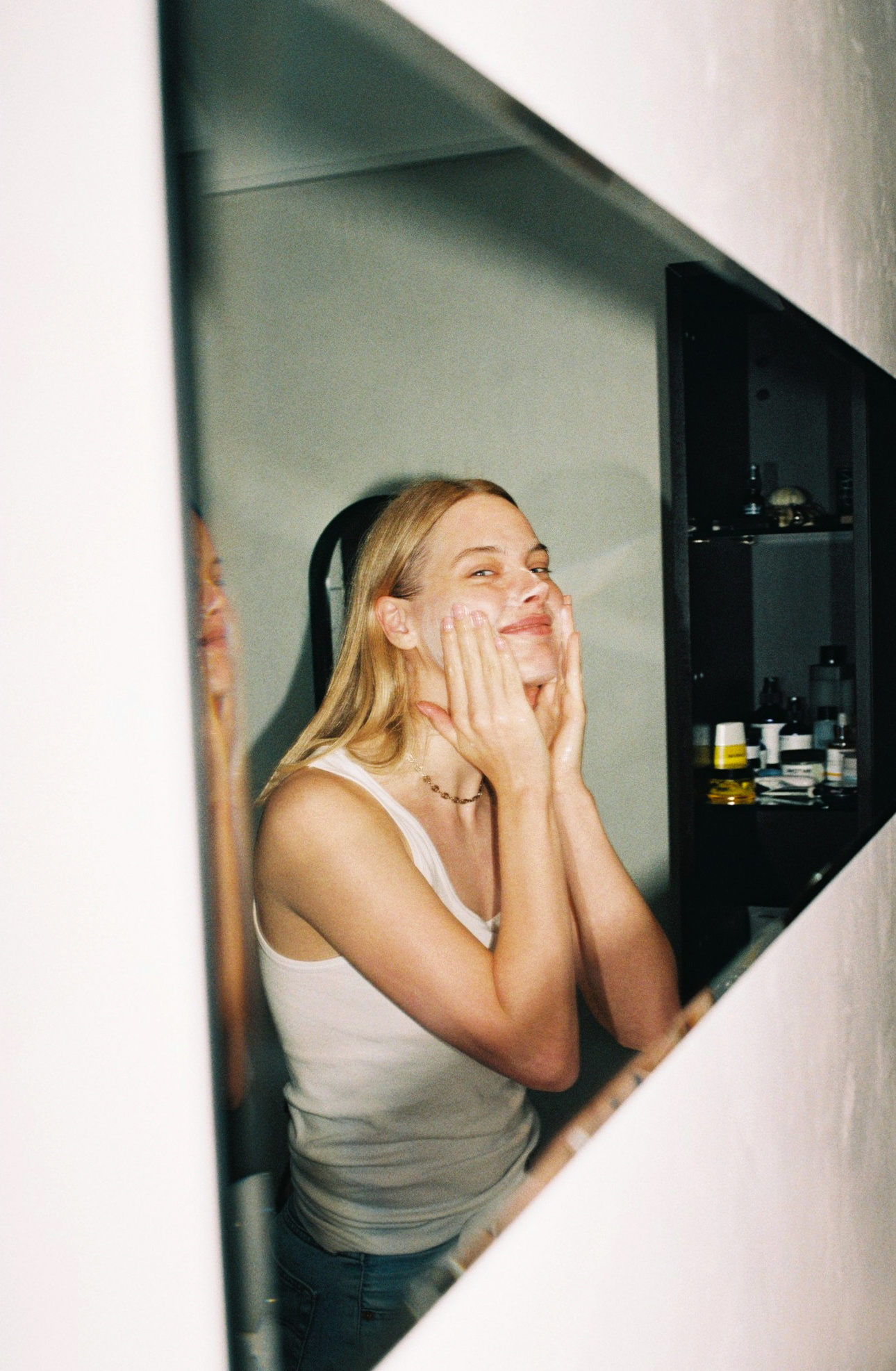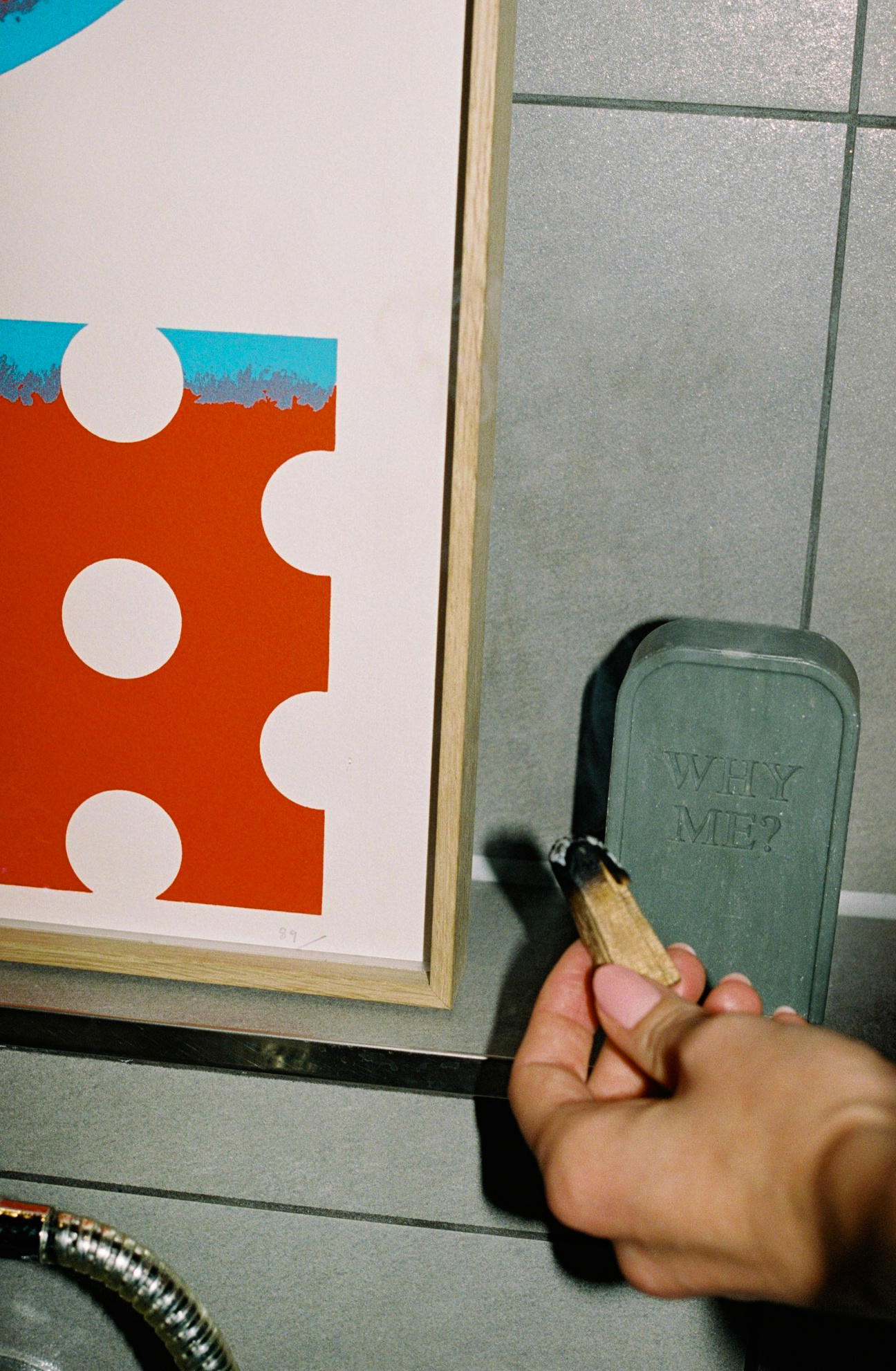 Which aspect of clean beauty appeals to you the most?
'What appeals to me about the clean beauty movement is that people are becoming more conscious about reading ingredients and skin care in general.
There's a list of ingredients I'd rather not put on my skin because I've noticed or read in scientific studies that they dry out or irritate my skin. Irritants are not just chemical or synthetic, and vice versa, not all natural ingredients are always good for your skin. So it's quite a puzzle to find effective products that don't irritate or make your skin age faster. The tricky thing about the term clean is that any brand can use it for anything and there is no protected definition of it. That's why I think it's important to do good research before I use a product'.
"K-Beauty helped me to get out of my burnout"
How did K-Beauty help you during your burnout?
'For me, it was the first step to recovery, because it was about self-care. For example, I found it much more difficult to eat healthily and go shopping every day and stand in the kitchen. It was easier to read and watch tutorials about K-Beauty, I developed an enormous interest in it. That's when I started trying to use the products step by step. Self-love turned out to be thé way to get out of that burn-out.'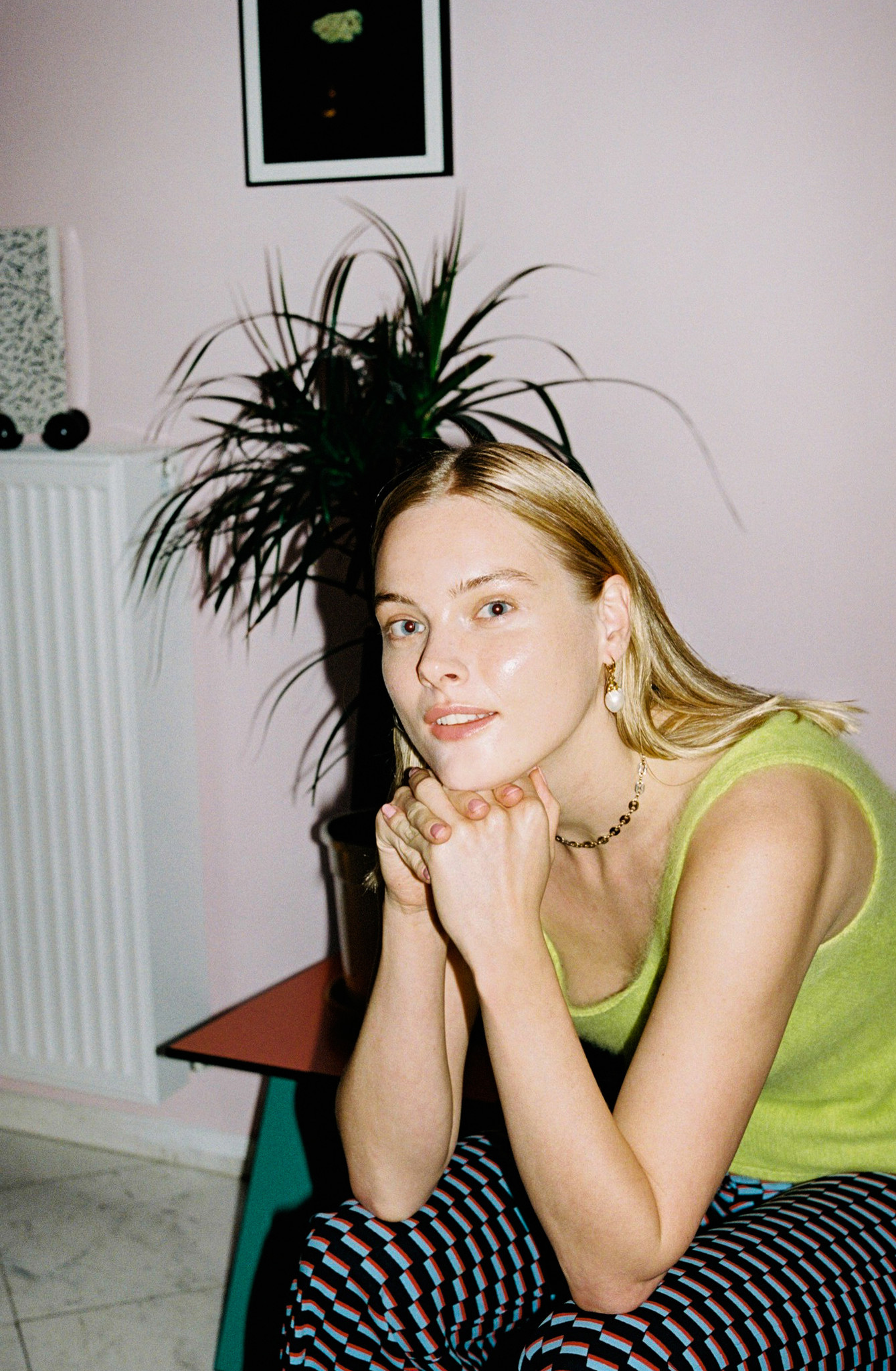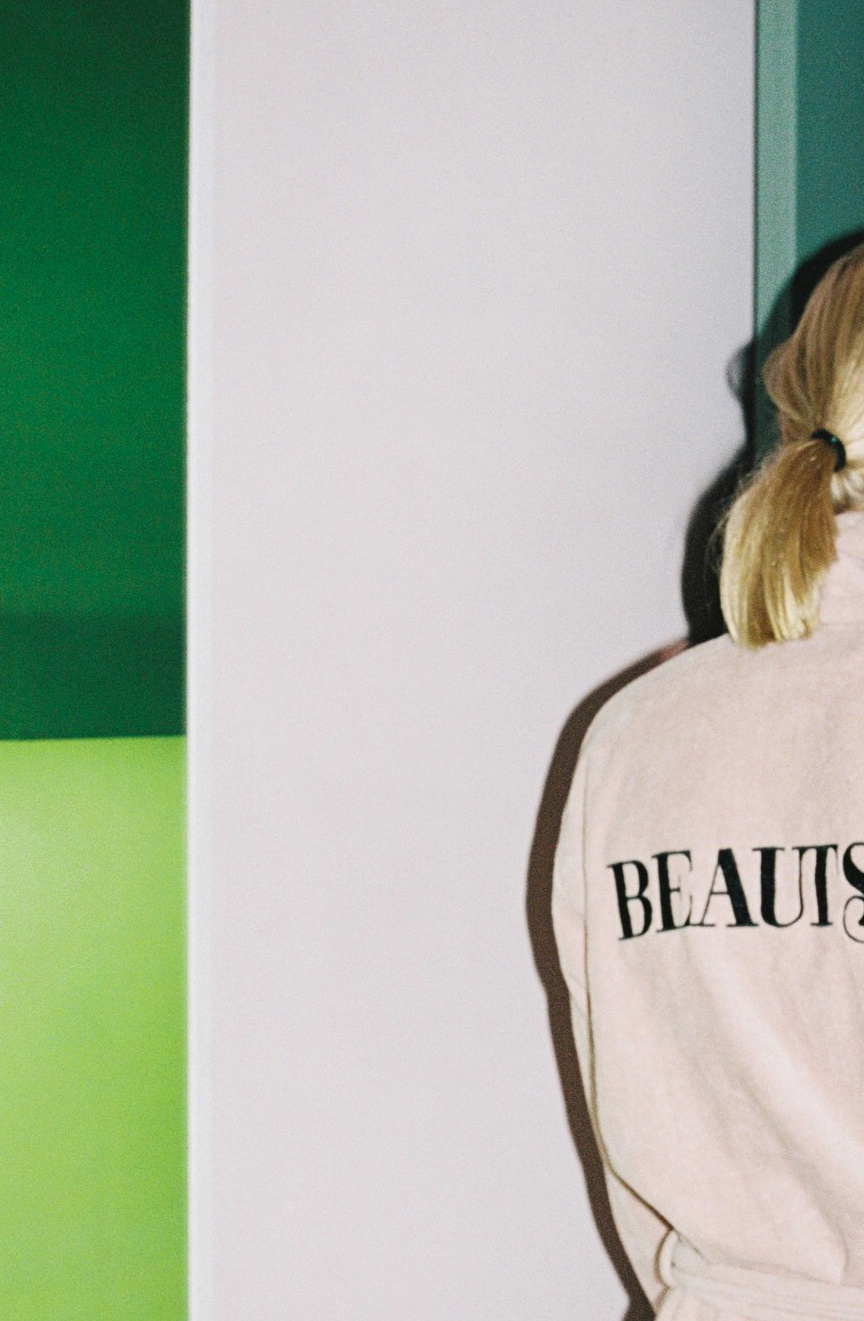 How old were you when you started modeling?
'I was scouted when I was 14. I was always very alternative, with pink hair and stuff. I thought fashion was stupid, except i-D Magazine. Luckily, in the end, my creativity is what made me special for the scouts. But the way they dealt with my skin, was horrible to me. I think makeup artists should be much more proactive when it comes to clean beauty. Use better products, at least clean the brushes. Especially because they often criticize a model's skin, but don't always handle it well themselves. I sometimes brought my own products to the shoot, but then I wasn't allowed to use them. They were afraid that my day cream would wrinkle with the foundation, for example. And at the end of a shoot I sometimes got LIDL wipes to clean my face with. Very bad and harsh for my sensitive skin.'
Finish: You never leave the house without... 
'My SPF 50 Centella Green Level Unscented from Purito. I've just discovered it has safe ingredients and a fine consistency. I use it underneath my day cream and I apply it several times a day. Sometimes I switch between the physical SPF and the chemical SPF, just different textures, both without potentially endocrine disrupting or irritating ingredients. This is very rare for a SPF, especially a chemical SPF.'
You travel a lot. Do you have any tips for not getting off the plane with a dehydrated face?
'Yes. Don't do your skincare routine on the plane, there are so many bacteria on the plane. Do it at home, before you go to Schiphol Airport, so that your skin is well hydrated before you fly. I sometimes spray with Holika Holika's Super Ceramide Mist to protect my skin in a healthy way from the air conditioning at the airport and the dry air on the plane.'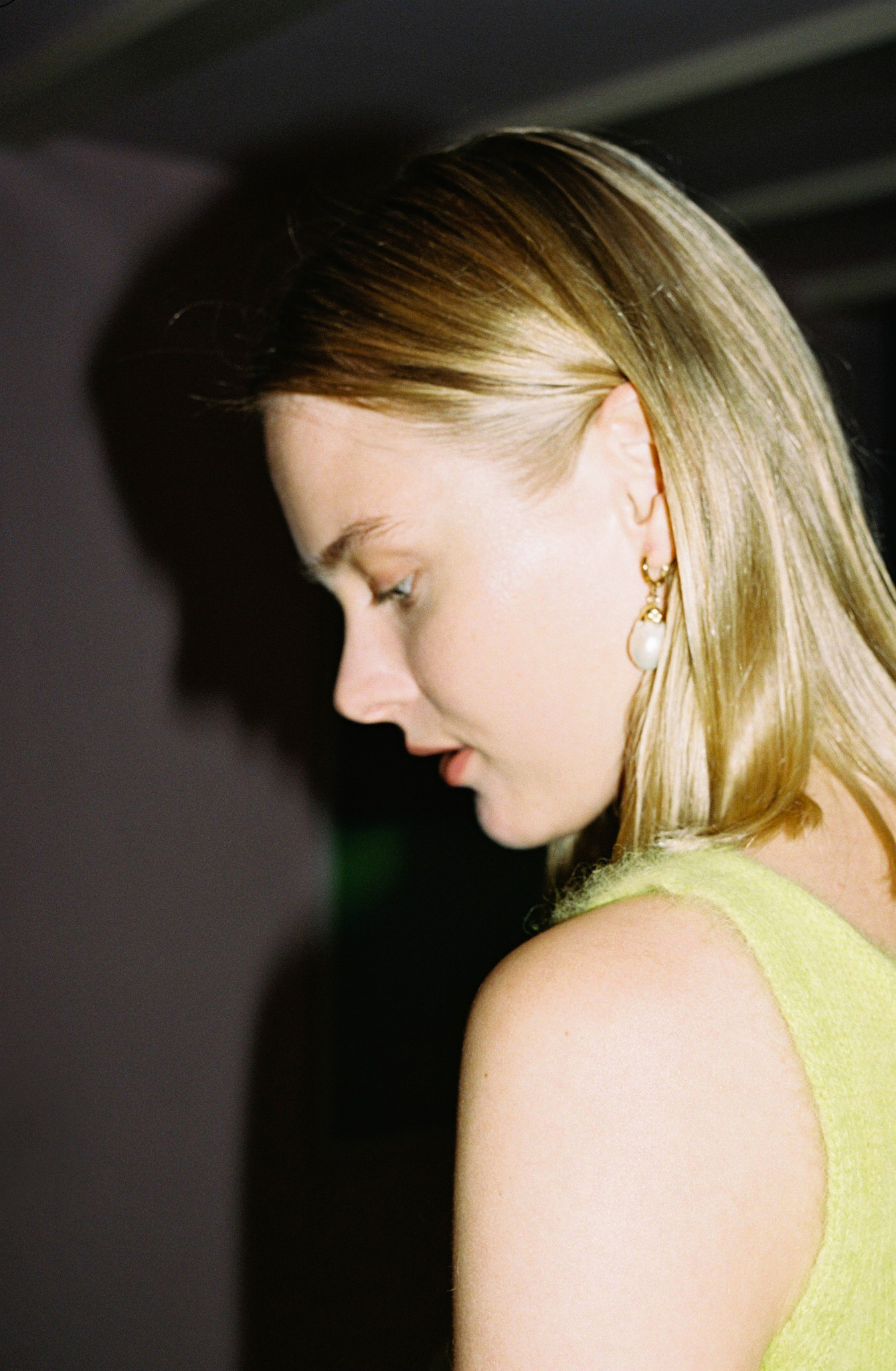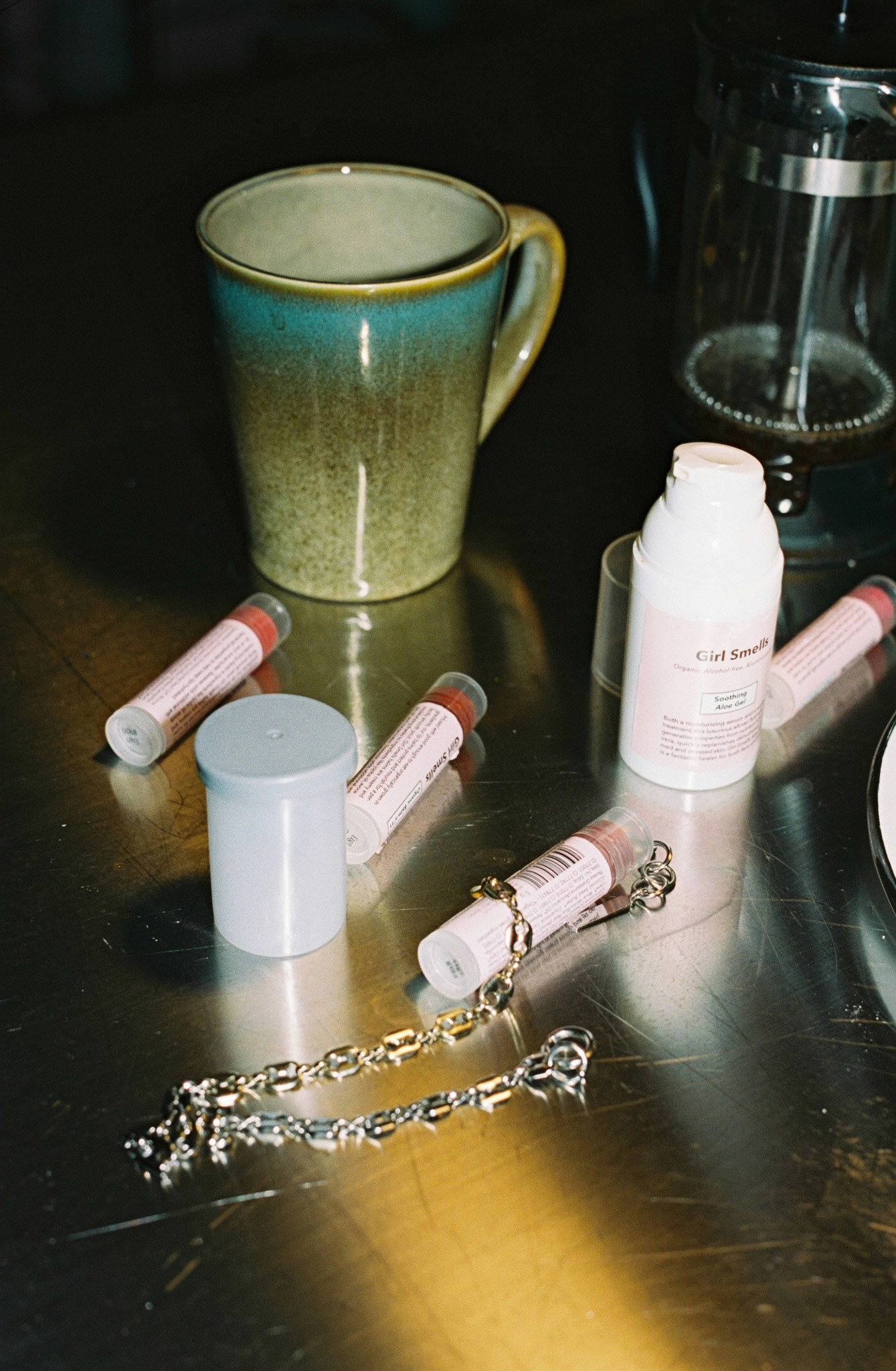 Finally: which BEAUTSY products do you already have on your bathroom shelf?
'As a shower gel the Calm Down from Plant Apothecary, which is silky smooth. I'm going to switch to clean deodorant and before that I'm going to start with the Underarm Detox Mask from Girl Smells. I know you can make such a mask easily yourself but of course this is even more convenient. Then I would like to use the deodorant Holi N4 from Agent Nateur, it smells delicious like roses. As for skincare, I'm currently trying out the Renew Face Serum by Linné Botanicals. I hardly use make-up, unless my skin doesn't look good. (...) I've never been as into clean make-up as I have been into skincare. The same applies to hair care, by the way. But when I use make-up, I use the Duet Perfect Concealer from Hynt Beauty (which is perfect!) and a highlighter. And finally, once a week, a mask for my face: the Matcha Oxidant Face Mask by Plant Apothecary.'
Would you like to shop Romy's favourite beauty products? Discover them here!