30 Sep 2019
Bathroom Shelfies: Carola Kirschbaum
Nothing more fun than peeking into another beauty's bathroom cabinet. Welcome to the Bathroom Shelfies, where BEAUTSY gets a tour in the bathroom of a well-known social media influencer that not only shares her beauty ritual, but also tells us about her favorite beauty products and beauty secrets. In this very first edition: Carola Kirschbaum. 
Words: Vicky de la Cotera, photography: Kim Erich
Shrouded in pink - her favorite colour, we'll learn later - Carola opens the door of her house in the Spaarndammerbuurt in Amsterdam. Although it's a warm, sunny day in August, she has prepared a nice pot of tea. Minty Moroccan, with Belgian chocolate, made by sweetheart Koen (Weijland, former e-sportsman of Ajax). The influencer's house looks spotless, with fresh flowers on the table. "I'm quite a neat freak", she admits laughingly. While she takes us on tour through her house, our eyes are immediately drawn to her walk-in closet. Carola: "A girls dream, huh?" Her clothes are carefully sorted by color, with some pink eye catchers. "My favorite color", she admits. "I'm crázy about pink."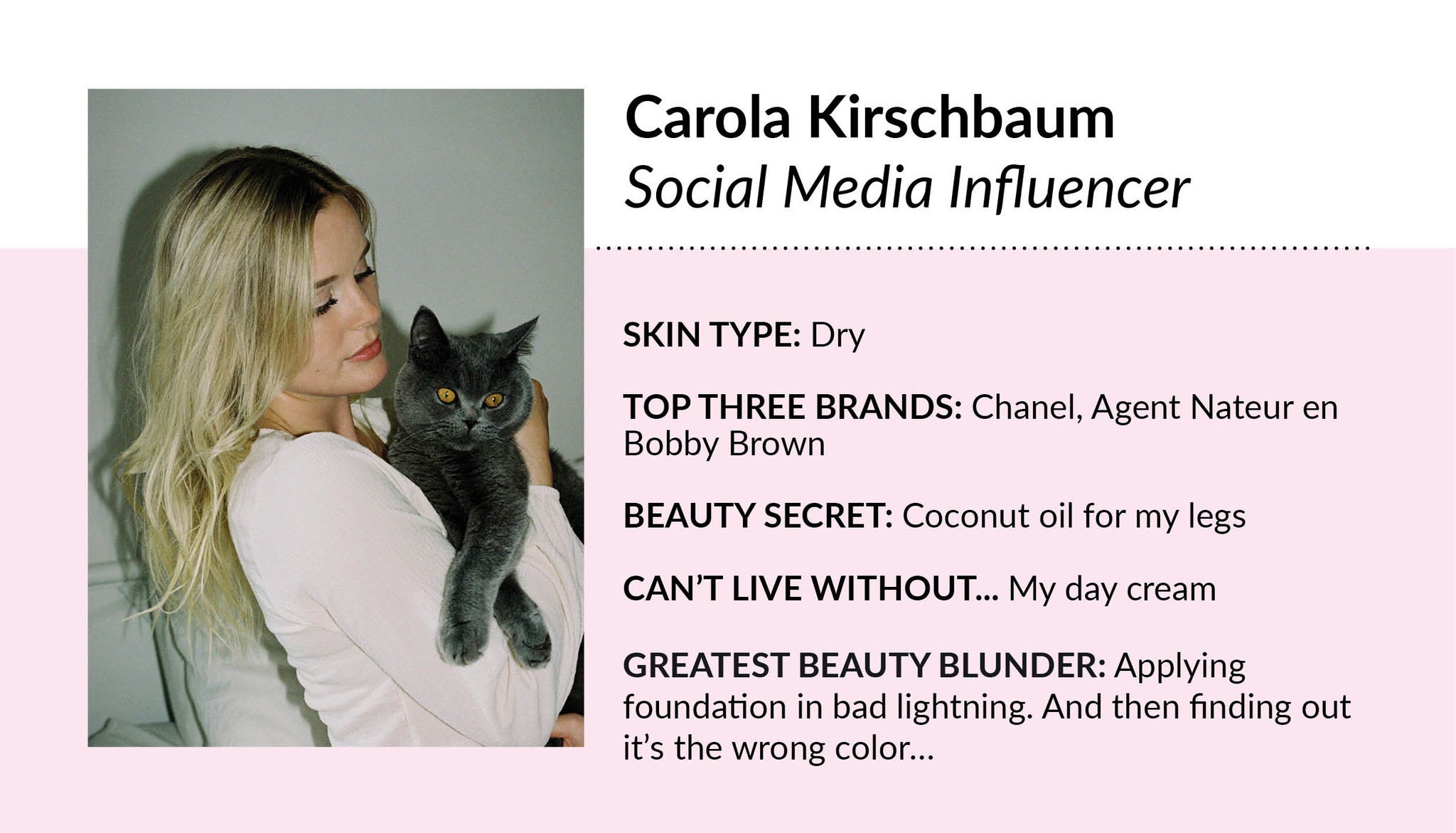 The only disturbance is cat George, with his grey, fluffy coat. He walks with us into every single room. "He always follows me and doesn't leave me alone for a second", says Carola as George jumps on the edge of the bath, which is filled with a fine dose of bath foam. While she dresses in a pink, silky jumpsuit for the picture, we quickly scroll through her Instagram. As an influencer, she travels regularly. Her 26k followers love her content that consist of enviably beautiful pictures, shot in the most beautiful places. Next to her swimwear line (@caroamsterdam), she is starting to make a switch to a beauty routine that is as clean as possible. About her beauty shelf, we question the hell out of her.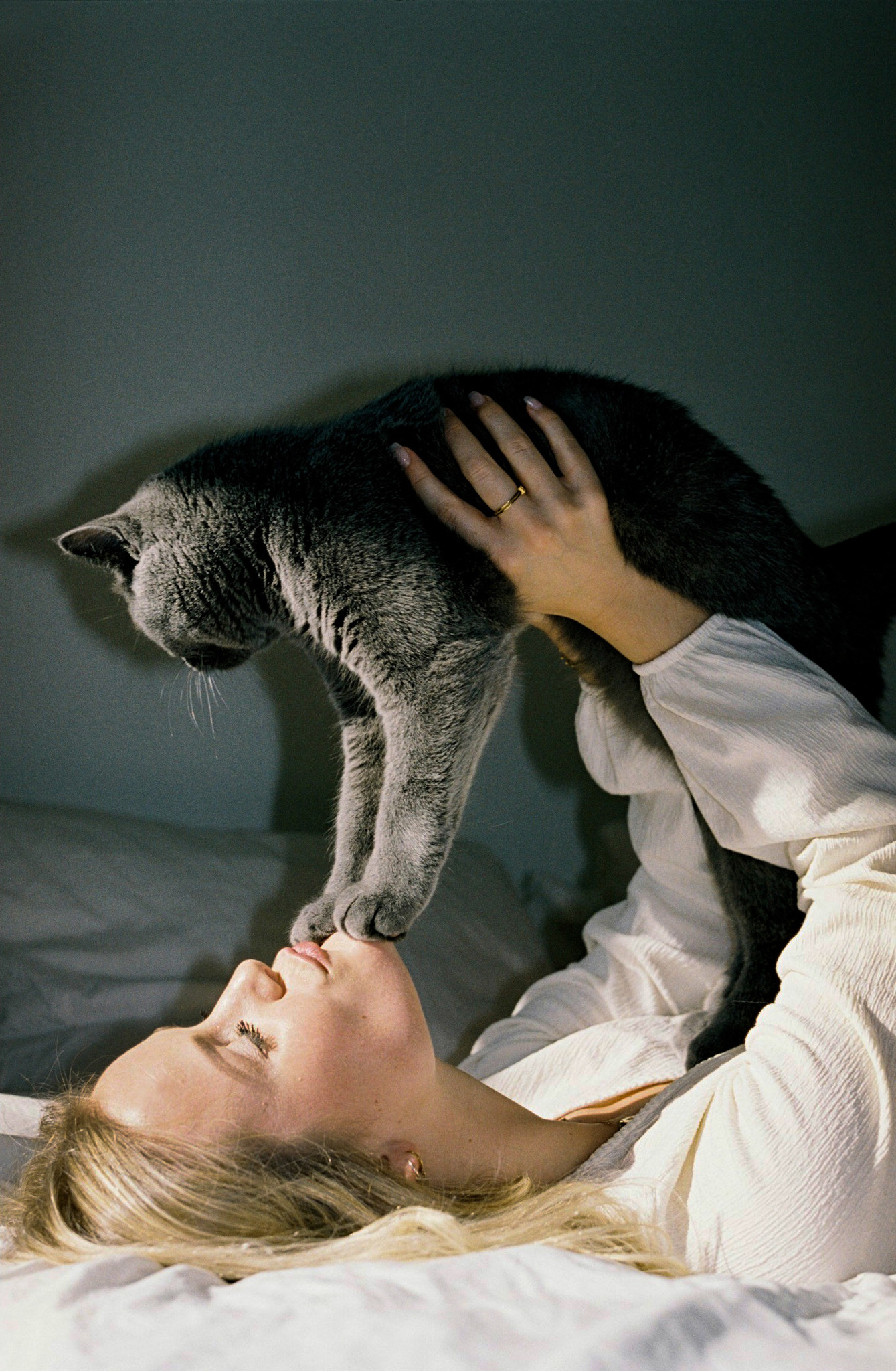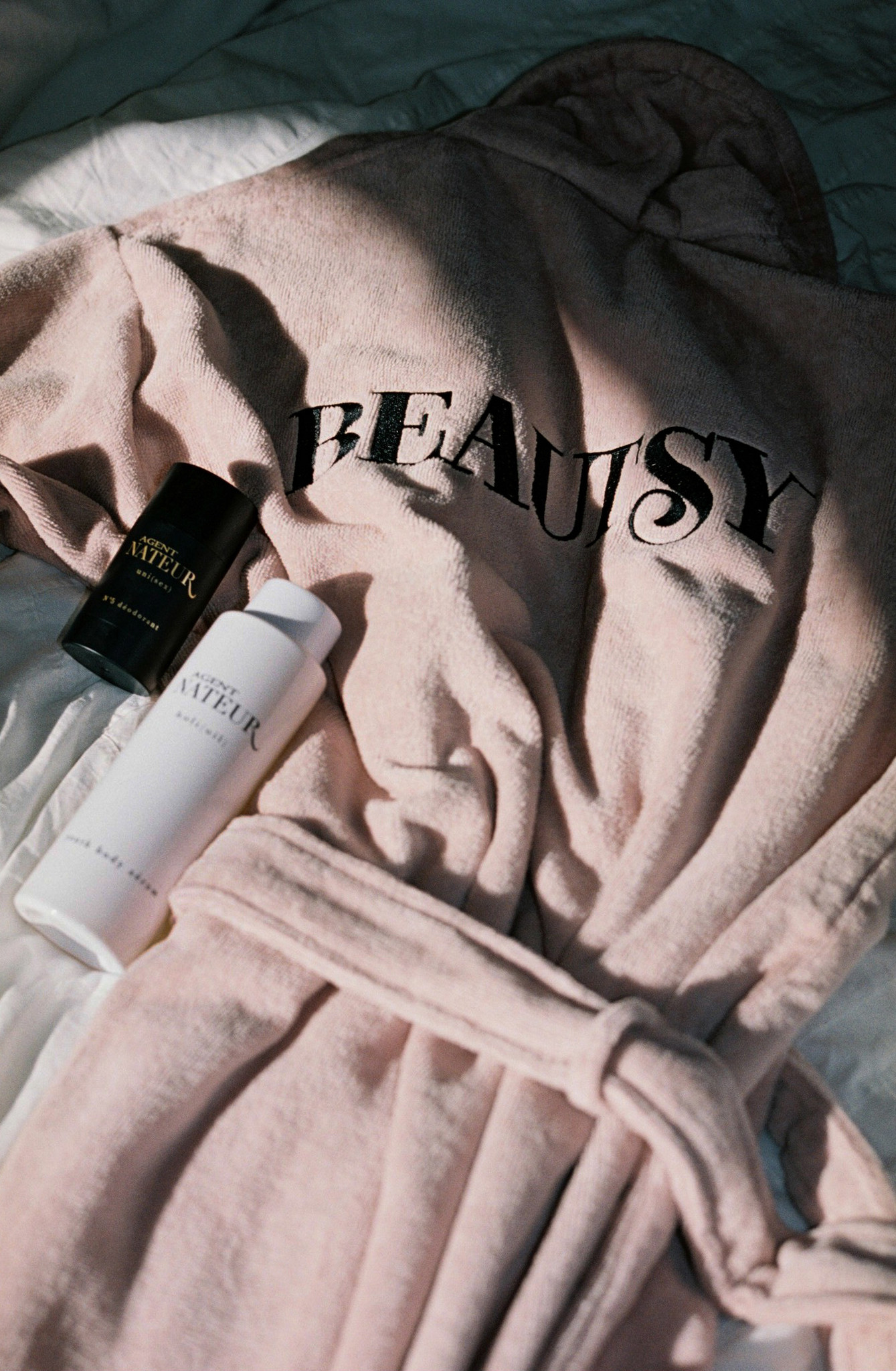 Tell us: what's on your beauty shelf?
"All kinds of things! I don't really have one favorite brand. All my beauty products are from different brands. However, I am loyal to the brands and products I use. Besides the fact that I prefer not to have any bullshit in them, I also want my products to look beautiful on my beauty shelf. And if the product is also pink, I'm extremely happy. As far as brands are concerned, I have three favorites: Chanel, Agent Nateur and Bobby Brown. To me, Chanel is like an art form: I really feel more beautiful when I wear something by Chanel. From Agent Nateur I use the unisex deodorant. The smell is fantastic and it looks great on my shelf. I once received a Bobby Brown day cream as a gift and since then, I've been very attached to it. It's also a perfect base for my makeup."
'I want my products to look beautiful on my beauty shelf'
Finish this sentence: I never leave the house without...
"Day cream. I have a very dry skin, so the key is to keep my skin hydrated. If I put on my makeup without first applying day cream, my face will feel dry all day long. I have the same thing with perfume. My favorite? Chanel No. 5., of course!"
Can you tell us something about your beauty ritual?
"I shower every morning and every night. I clean my face with a natural face wash by de Tuinen. Every two days, I use an exfoliator and once a week a peeling. I'll stick with the same routine: first, I apply my deodorant, then I brush my hair with a hair oil. Then I apply my day cream and let it soak in for a while, while I check if my eyebrows need some tweezing. Then I put some other ointments in my hair before I blow-dry it and finally, I put a deliciously body lotion or body cream on my body, always a different one. As long as it has a light shimmer in it. My favorite is one by Livera, that lingerie brand - it's very subtle. For my legs, I use coconut oil. As for my hair, I only wet it in the morning. In the evening I put in a bun while showering, or I apply a hair mask that I then go to sleep with. I wash it out the next morning."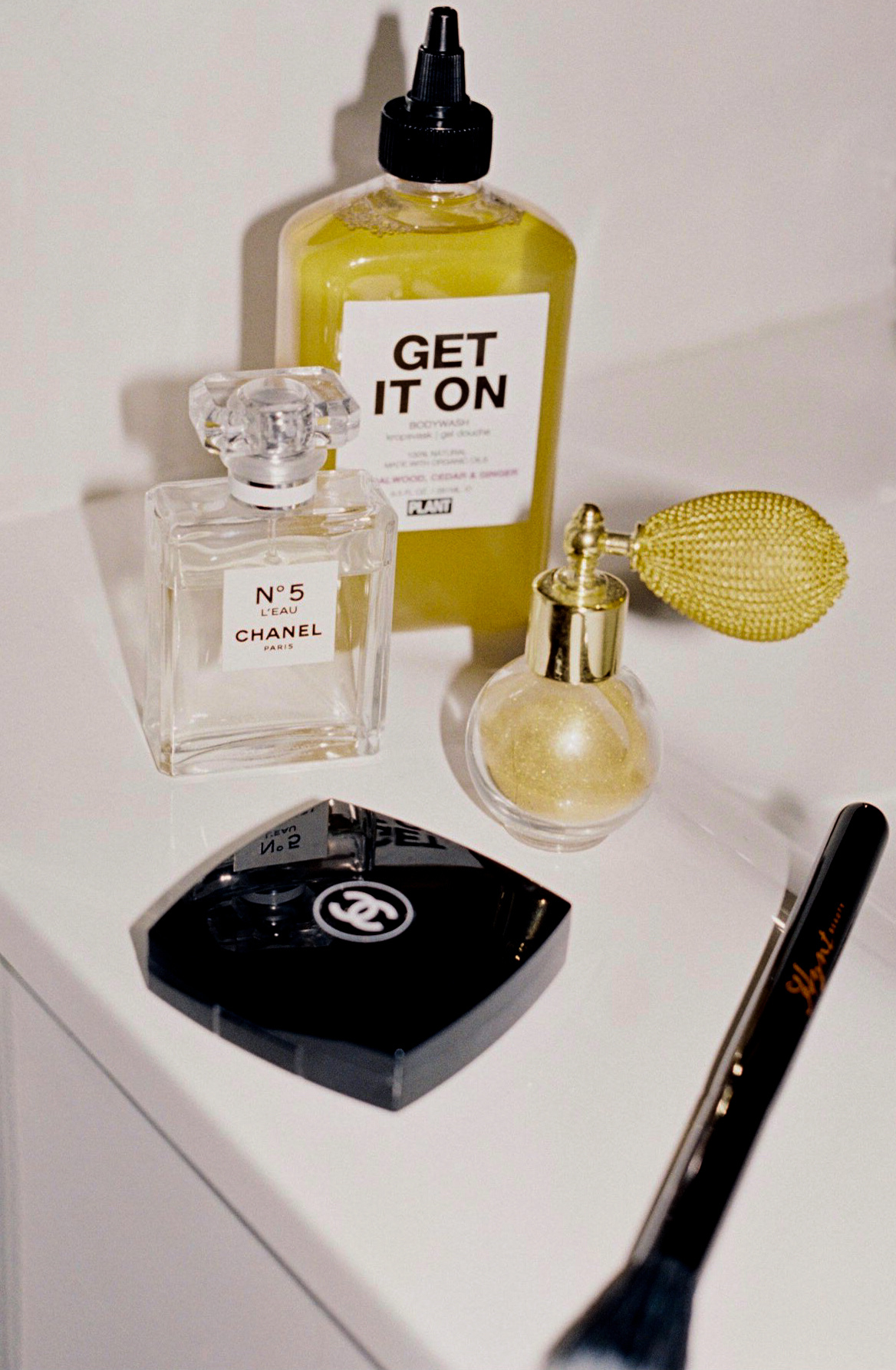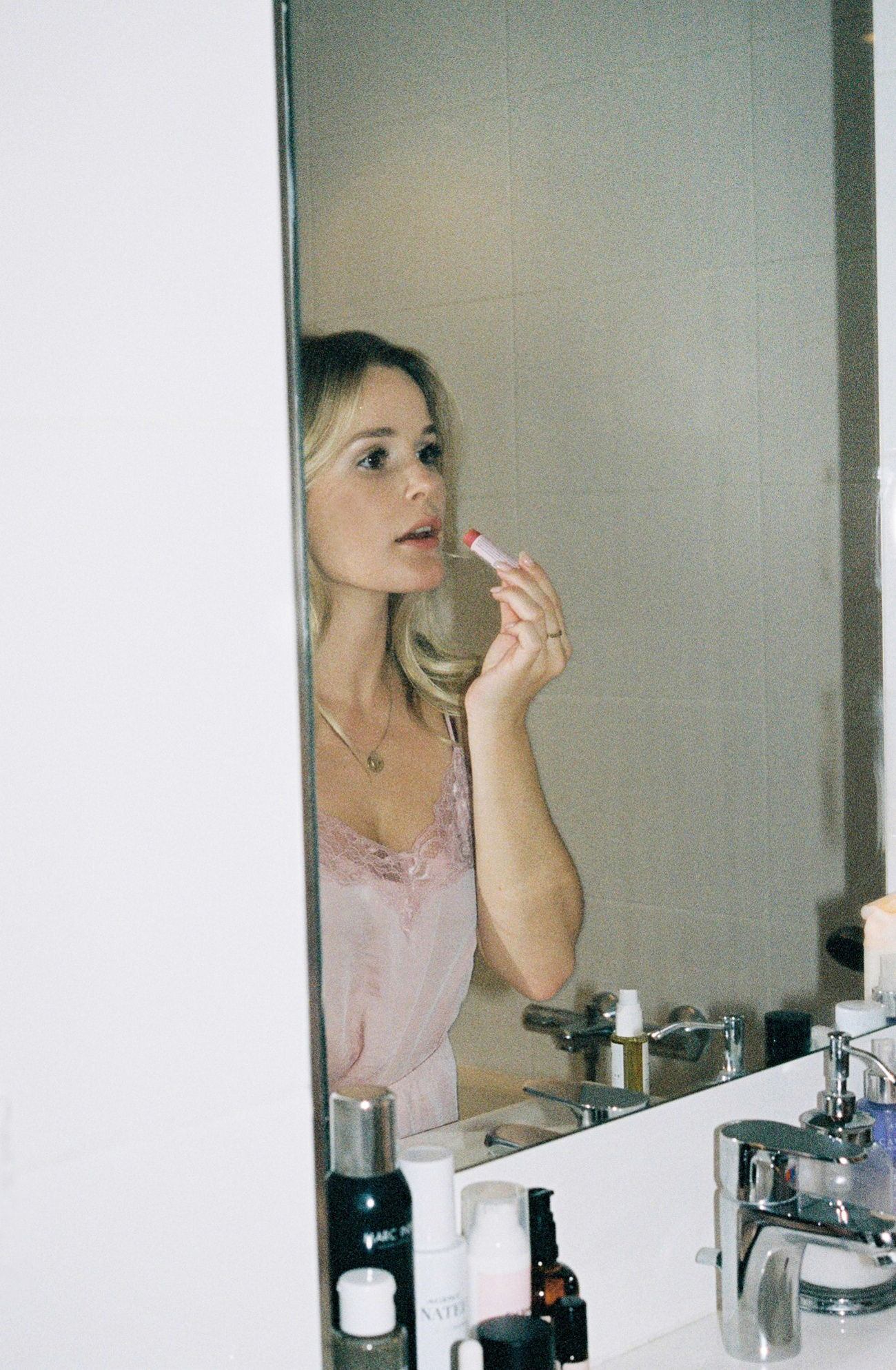 What about makeup?
I do like makeup, yes, but I always make sure that I create a look that is as natural as possible. I use makeup products by Chanel, Mac, Vichy and Bobby Brown. I start with a stick for under my eyes, then foundation. Then I color my eyebrows a bit, apply a natural eye shadow and then mascara. A blush, a lipliner and then a lipgloss or lipstick. Finally, some shimmer on top, for an extra shine. I'm not into powders or concealers, or contouring - I wouldn't even know how to do that. Sometimes I have a photoshoot and my face is completely covered. I immediately take it off at home, because I really don't feel myself wearing so much makeup."
Your nails are beautiful. Are they real?  
"I almost forgot! Taking care of my nails is really part of my life and definitely a part of my beauty ritual. I don't do them myself, I have a guy for that. They're my own length, but I use gel to make them a bit stronger. In this case, I don't have to worry about it for three to four weeks. Once in a while I put on a color, if it suits my outfit, or if I'm having a party."
"I don't want to see ingredients in beauty products that dry out my skin, like alcohol"
What aspect of clean beauty appeals to you?
"I admire people who use beauty products that are completely vegan. For example, I know that Chanel is not vegan, so I am somewhat guilty of animal suffering. Still, I would like to see beauty products no longer being tested on animals. I also try to make sure that there is no or as little perfume and alcohol as possible in the products I use. For example, I haven't used any deodorant containing aluminium for eight years now. Because I have dry skin, I always make sure when buying beauty products that they don't contain any ingredients that dry out my skin, such as alcohol. If that's high on the list of ingredients, I don't buy it."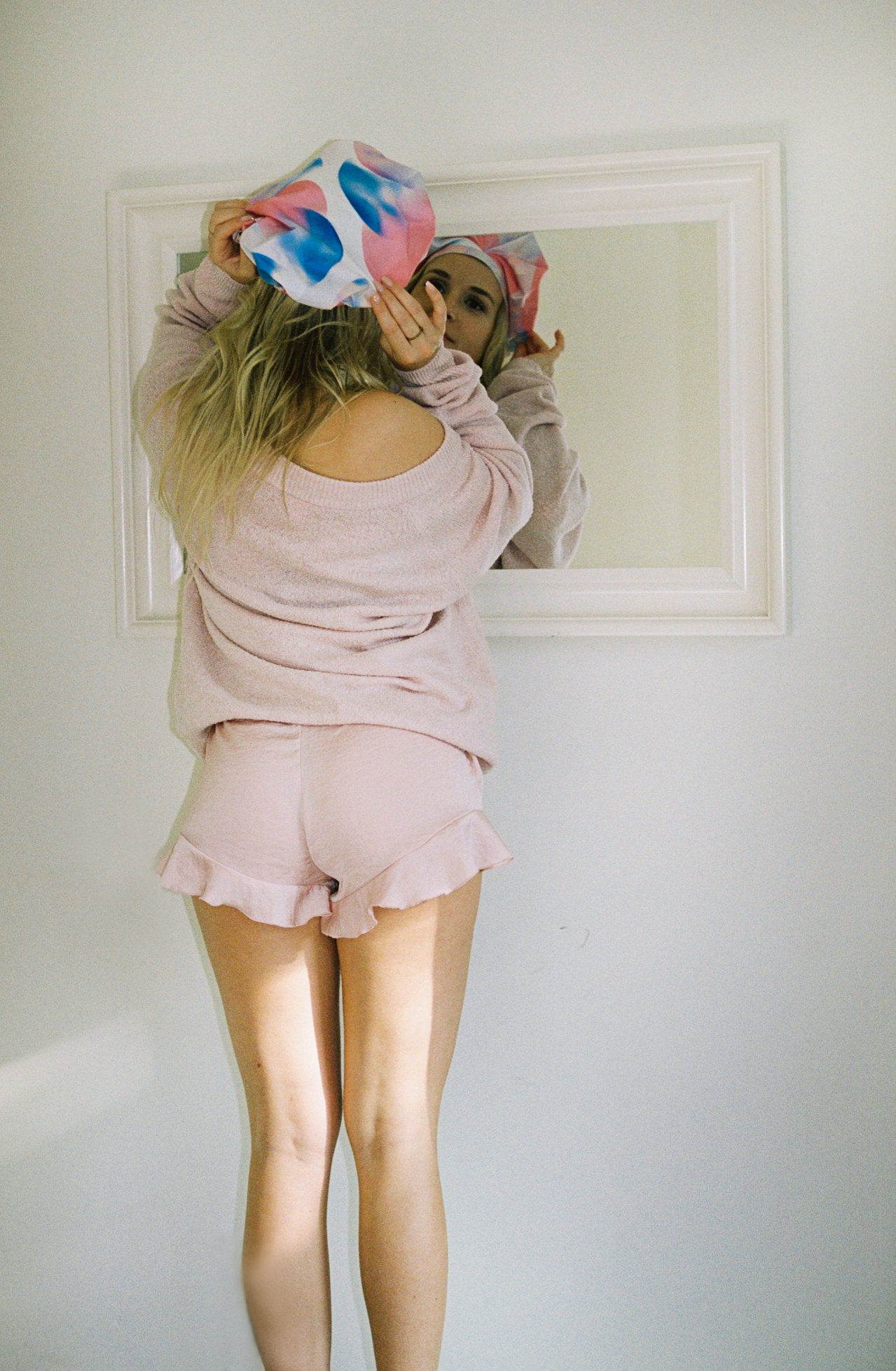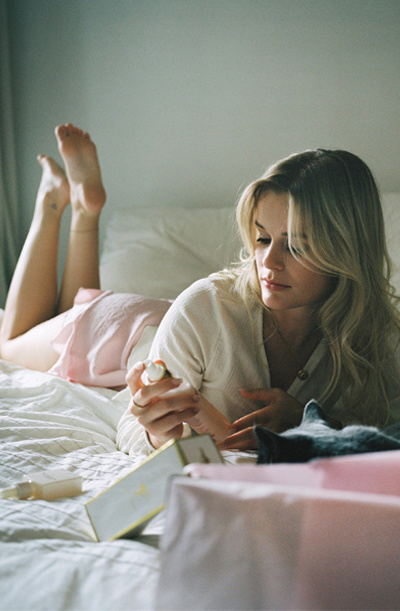 You're an animal lover. Are you also a vegetarian?
"I was a vegetarian for four years after I saw a documentary on TV when I was sixteen. I know I can't move mountains, but every bit helps. After a year, my mother joined me as well. I say 'was', because every now and then I like to put some smoked beef or chicken fillet on my cracker. But when I cook, I always cook vegetarian. Koen also grew up in a vegetarian family. We are also thinking about making the switch together to eating vegan once a week."
Last but not least: which BEAUTSY products do you already use?
"I have the Get It On Body Wash by Plant Apothecary in my shower, the Holi Man No. 5 by Agent Nateur as deodorant for my armpits, the Sun Prep by Hynt Beauty as SPF for my face and the Leg Shaving Oil by Girl Smells for silky smooth legs. And, when I don't want to wash my hair: a nice shower cap by Shhhowercap! I saw that every product has a cruelty-free label, which I didn't know about. That's my goal for this year: I'm only going to buy beauty products with a cruelty-free label on them. In fact, I'm going to throw away all the products I use now that aren't vegan. Promise! Except for Chanel... I'll take that for granted."
Would you like to have Carola's beauty products? Discover them here!