Products tagged with Soapwalla
Soapwalla
Original Deodorant Cream
This powerful, natural deodorant cream by Soapwalla is the perfect way to eliminate unpleasant odors. Thanks to the vegetable powders and clays in combination with lavender and peppermint, it kills bacteria.
Soapwalla
Citrus Deodorant Cream
This powerful, natural unisex deodorant cream from Soapwalla stops bad odours in their tracks. The combination of plant powders, clays and citrus essential oils absorbs moisture, kills bacteria and gets rid of unpleasant odours.
Soapwalla
Citrus Sensitive Deodorant Cream
With Soapwalla's Citrus Sensitive Deodorant Cream, you're in the right place with sensitive armpits. The deodorant not only get you rid of unpleasant smells, it melts effortlessly into the skin and kills the bacteria that cause a sweaty smell.
Soapwalla
Resilience Body Oil
Treat your body! Soapwalla's Resilience Body Oil contains a blend of ingredients that nourishes, moisturizes and soothes signs of stretch marks. Chamomile, calendula, arnica and lavender are starring in this body oil.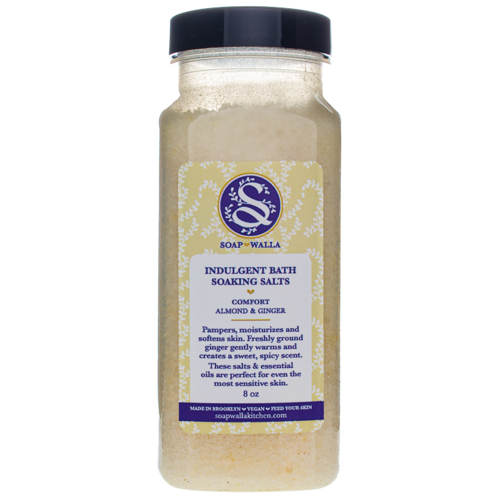 Soapwalla
Comfort Indulgent Bath Soaking Salts
Bath time! Soapwalla's Comfort Indulgent Bath Soaking Salts screams to take a bath with you. The bath salt is packed with minerals such as magnesium, potassium and calcium chloride. For a spa treatment in your own bathroom.
Soapwalla
Luxurious Body Oil
Soapwalla's Luxurious Body Oil is bursting with fine, natural ingredients. It contains jojoba, sunflower oil, grape seed oil and rice bran. This body oil helps your skin intensely hydrate and nourish where necessary.
Soapwalla
Almond Luxe Body Polish
The Almond Luxe Body Polish by Soapwalla is a true gem for the shower. It is a subtle scrub made from almond oil, a hint of cardamom and organic sugar and is extra sweet for dry areas such as elbows and knees.